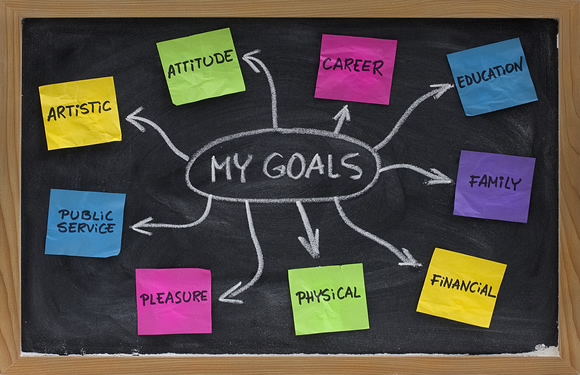 We all have goals that we want to achieve in our lives. However, many people tend to just keep their goals as fantasies in their head without ever actually trying to take the necessary steps towards achieving them. If you don't want to be one of these people then you need to take the appropriate steps in reaching your goals. For starters, make a list of your goals. This might sound a little corny, but it is actually a great way to organize yourself and what you want to achieve in your life. As you brainstorm your future and write down your goals on the list, you may discover new goals that you never thought of before. These could be goals you might have put into the back of your mind without really focusing on them. Perhaps you thought they were too unrealistic or silly. But, you should write down these goals anyway because they are doable if you simply plan out steps towards achieving them.
One of the biggest problems people have when they set goals for themselves is not doing any work towards completing them. For example, if someone has a goal to become a millionaire, they need to actually plan how they are going to become a millionaire. If this remains a fantasy inside your head then it will never become reality. It is very unlikely you will win the lottery or have someone pour money into your bank account. Instead, you will have to take the necessary steps towards making a lot of money. This could mean writing out a business plan and creating a business that you are passionate about. It could mean planning to work harder and giving up more free time in order to get closer to your goal. The idea is to write down what you need to do to accomplish your goals. Don't just write down goals without steps because that will only make them fantasies rather than goals.
Another important thing to remember is to set realistic goals. It may not be a good idea to set a goal for a million dollars because there is no guarantee that you can make that much money. There are some business people who work hard their whole lives and never earn that much money. What you should do is set a goal that you have real control over. If the goal ends up bringing you wealth then that can be considered an added bonus. An example of a realistic goal would be opening up your own business as opposed to being a millionaire. Opening up your own business is a goal that anyone can accomplish if they simple take the necessary steps towards achieving them. Some more examples of realistic goals like these include losing weight, building muscle, finding a girlfriend, getting a job, traveling to Hawaii and so on. Once you accomplish these kinds of goals, you will become a more confident person in your life. This will give you the ability to easily accomplish your goals in the future. 
Share and Enjoy